A UNIQUE EXPERIENCE
at a reasonable price
This is exactly what you'll find at the David Wellness Hotel in the centre of Harrachov. It is located very close to the cable car up to Čertova hora, where you can enjoy daytime and night-time skiing in winter, while in summer it is the perfect starting point for hikes, easier walks, bike rides or short strolls. The peaceful mountain atmosphere is enhanced by the common room with its fireplace, where you can play pool and table football, or simply sit with a glass of fine wine.
AVAILABLE ROOMS
choose the best one for you
There are 22 rooms available, each with a bathroom with towels, a safe, Wi-Fi, a balcony and satellite TV. 7 x 3/2 rooms (3 beds + 2 extra beds), 5 x 2/2 rooms (2 beds + 2 extra beds) and 10 x 2/1 rooms (2 beds + 1 extra bed)
There are also 4 C-type rooms (3 C-type rooms with 3 beds and one C-type room with 5 beds), which have shared sanitary facilities in the corridor. A ladies' shower, men's shower, a women's toilet and men's toilet. These rooms are located on the lower ground floor, have smaller windows, Wi-Fi, TV and towels.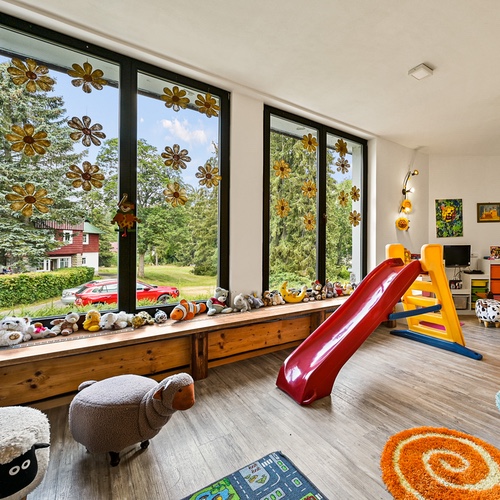 FUN
and amenities for the little ones
It's important to us that all our guests are as satisfied as possible. That's why we have a children's area with a playroom for our littlest visitors, with plenty of toys and board games, as well as books and the ever-popular ball pit with a slide.
Near the hotel there are two children's outdoor playgrounds, with a trampoline, climbing frames, a bouncy castle and lots of other attractions.
A children's dining chair is available in the restaurant, and guests can also order a cot together with bedding for their room.
NEXT
what else you can find here
The hotel has its own restaurant, reception desk, currency exchange, free parking space, lift, equipped kitchen, dining room, bike and ski storage, ski rental and service, common room with a fireplace and pool table, table football, and a children's play area. Wi-Fi is naturally free of charge for hotel visitors.
The hotel also has two sunny terraces with lots of flowers.
We also recommend visiting our ceramics and souvenir shop, where you can find a wide range of ceramics from all over the Czech Republic.